Residential Service
After extensive research and planning, the City of Hood River and Hood River Garbage deployed a new solid waste collection service in May 2017
The new 3-roll cart system was chosen because it will:
Increase diversion rates
Positively impact the environment
Improve public safety
Reduce nuisance
And on March 7, 2019, Hood River Garbage launched a new Residential Schedule lookup tool to make it easy for residents to look up their individual collection schedule.
---
Residential Container Types (City of Hood River)
For the City of Hood River there are four different residential containers:
| Container | For | Collected |
| --- | --- | --- |
| Roll Cart - Black Lid | Garbage | Every other week |
| Roll Cart - Green Lid | Compost | Weekly |
| Roll Cart - Blue Lid | Recycling | Every other week |
| Square Bin - Blue | Glass | Every other week |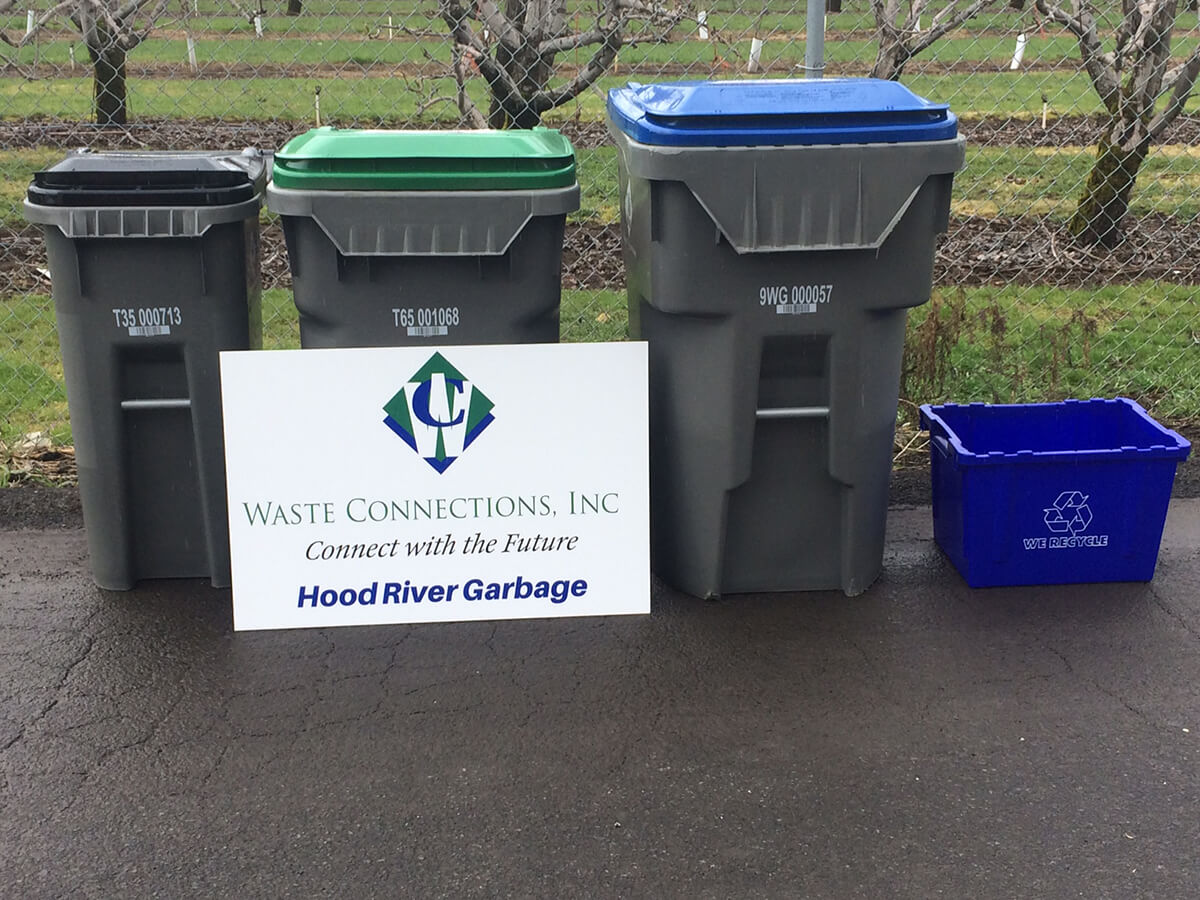 Residential Container Types (Hood River County)
For Hood River County, customers provide their own cans with two handles, a removable lid, and not to exceed 32 gallons. Pictured below: 32 gallon customer provided can (with two handles and a removable lid).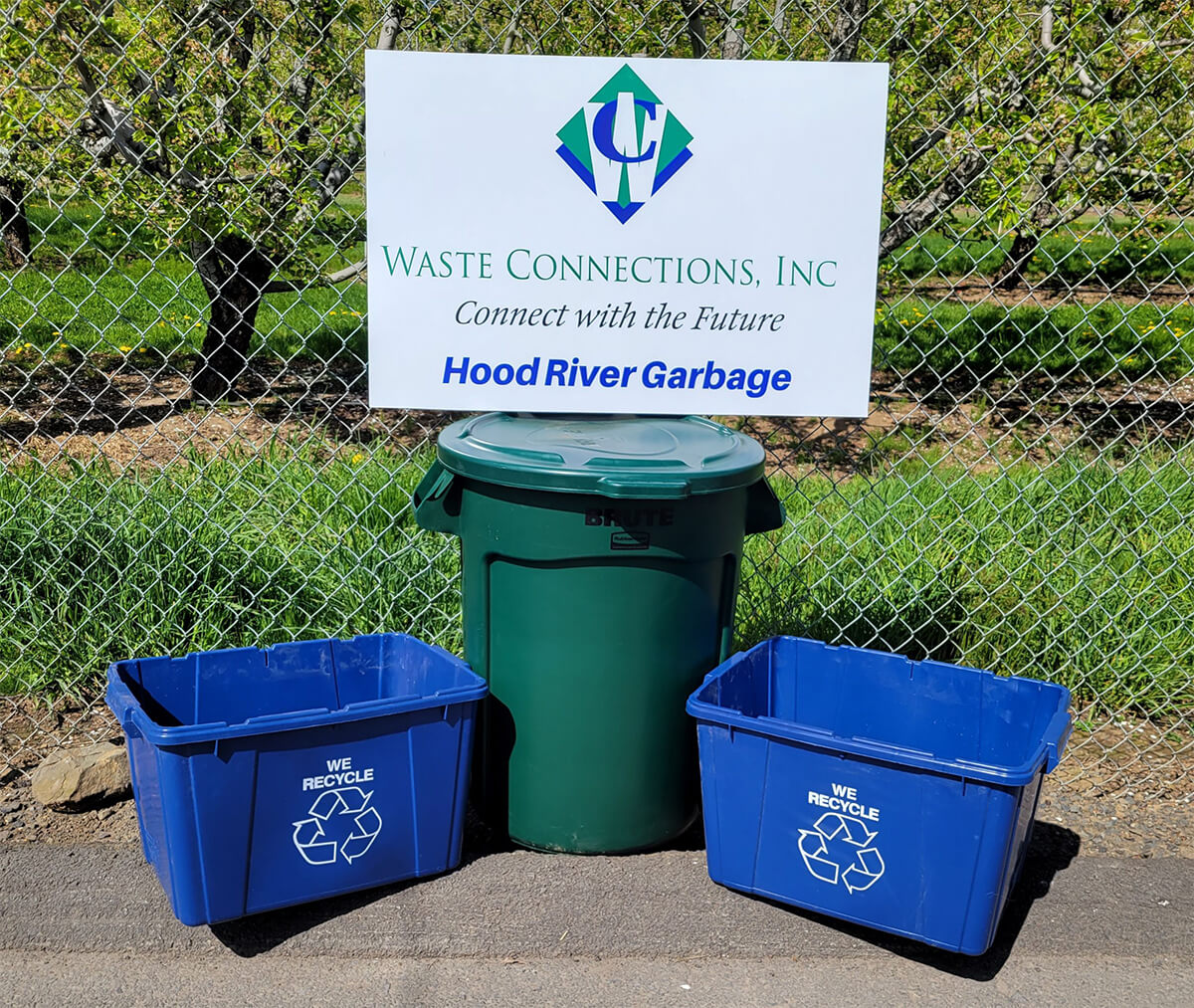 Container Set-Out Instructions
The new carts with wheels were chosen to make it easier for residents to move their materials to the curb and reduce injury. And, the cart sizes and frequency of collection are designed to increase composting and recycling.
Set out containers by 7AM on collection day.
Place containers within 3 feet of the curb facing the street.
Space containers 3 feet apart and 6 feet away from other objects like cars or mail boxes.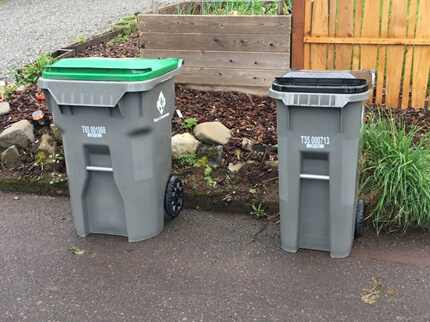 Collection Calendar
2023 City of Hood River Collection Calendar- Download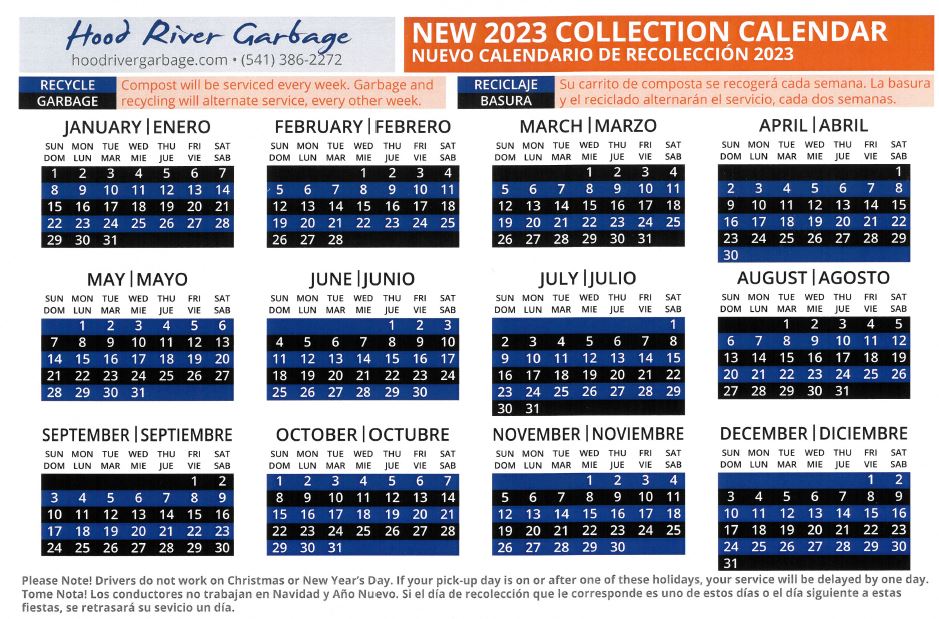 ---
What materials go in each container?
Garbage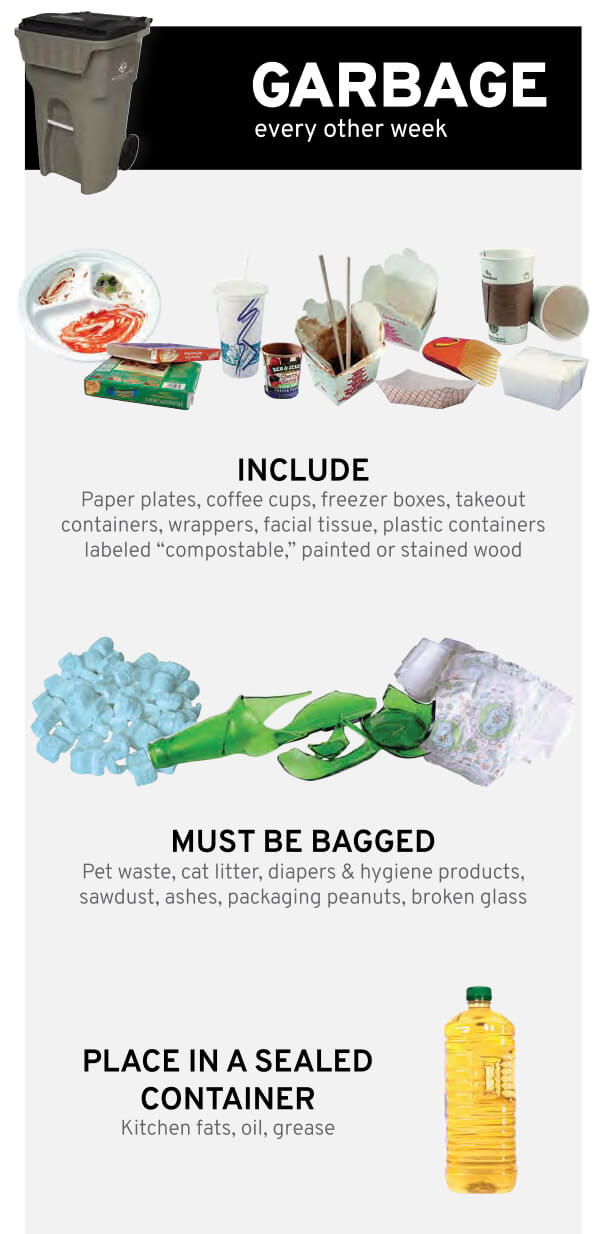 Acceptable
Coffee cups
Facial tissue
Freezer boxes
Painted or stained wood
Paper plates
Plastic containers marked compostable
Takeout containers
Wrappers
Must be bagged
Pet waste
Cat litter
Diapers & hygiene products
Sawdust
Packaging peanuts
Broken glass
Place in sealed container
Not Allowed in Garbage Carts
Antifreeze
Appliances
Asbestos
Ashes (hot or cold)
Car batteries
Chemicals
Dead animals
Dirt or rocks
Household hazardous waste
Liquid paint
Medical sharps
Compost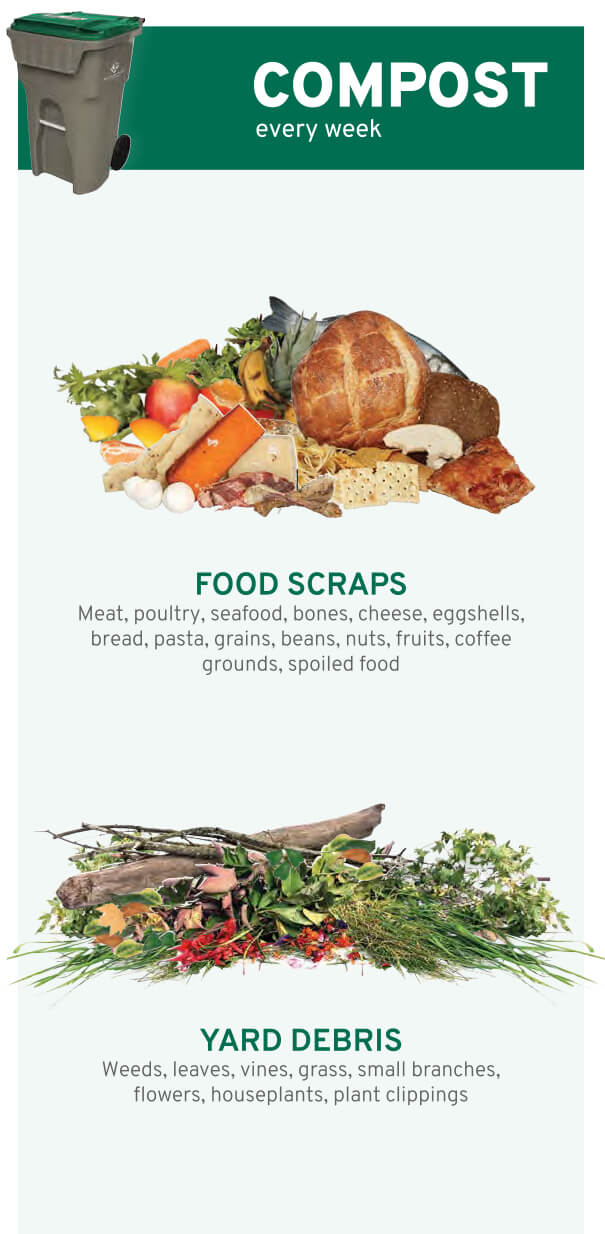 Food Scraps
Beans
Bread
Bones
Bread
Cheese
Coffee grounds
Eggshells
Fruits
Grains
Meat
Nuts
Pasta
Poultry
Seafood
Spoiled food
Yard Debris
Flowers
Grass
Houseplants
Leaves
Plant clippings
Small branches
Vines
Weeds
Recycling
Acceptable Recycling (unbagged)
Plastic
Bottles #1 and #2 with a neck (rinse and remove caps)

Examples: beverages, milk jugs, detergent, cleaners
Paper
Carboard cardboard, flattened (max size 2'x2' square)

Cardboard tubes
Catalogs
Magazines
Newspapers
Office paper, colored paper, note pads, letters, paper bags
Paperboard boxes (tissue, shoe, cookie, cereal, crackers (remove liner)

Phone books
Scrap paper
Metal
Aluminum and tin cans (rinsed)

Aluminum trays (clean)

Empty aerosol cans (plastic caps removed)

Steel cans (rinsed)
Not Allowed

Plastic bags

Styrofoam
Frozen food boxes
Clamshell plastic
Glass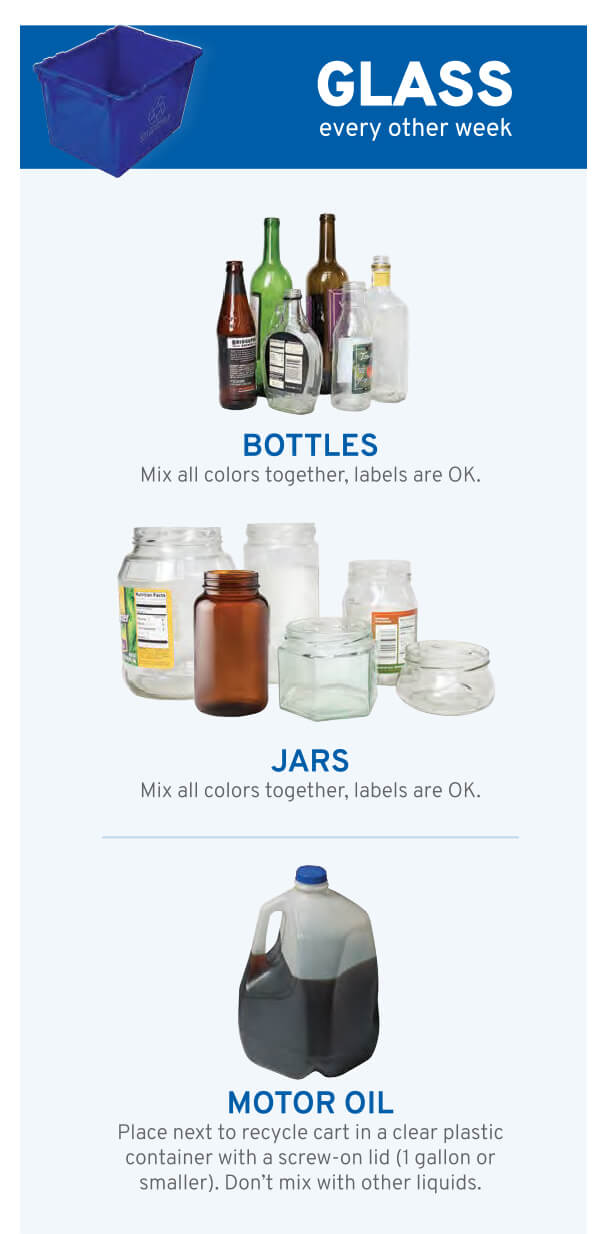 Glass Bottles & Jars
Mix all colors together
Labels are ok